2023 Mystic Squirrels of Bienville
02/19/2023 10:30 AM - 04:00 PM CT
Description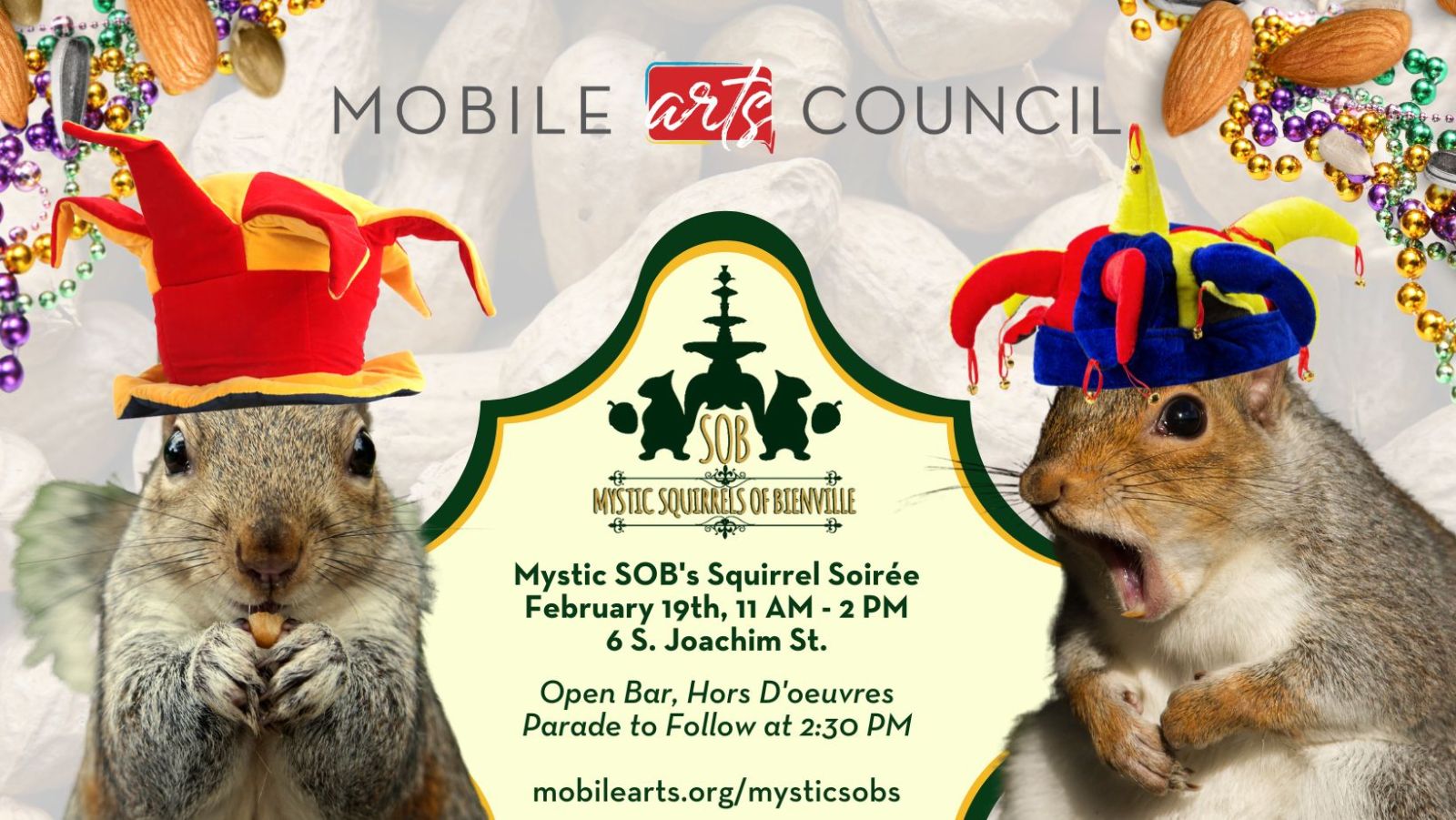 MYSTIC SOB'S (MYSTIC SQUIRRELS OF BIENVILLE)
WHEN: Sunday, February 19th (Joe Cain Day, People's Parade)
Registration extended until February 18th or until tickets sell out
WHAT IS IT: A Mardi Gras organization for creatives to celebrate the arts and raise funds for the Mobile Arts Council.
Each year, the Mystic Squirrels of Bienville Square (Mystic SOBs) depict the adorable squirrel tricksters of Bienville Square. Mystic SOBs dress in handmade costumes and throw bags of A&M Peanuts, handmade nut necklaces, cups, and any other approved throw. The group can be on foot, bike, or roller skates.

To participate with the Mystic SOBs, you must register in-person or online through the Mobile Arts Council website. Discounts are given to members of Mobile Arts Council. Membership is limited to the first 100 people, and to participate in the parade day party participants must be 21+.

Mystic SOB's will be invited to get to know their fellow rodents at a meet and greet crafting session and an exclusive "Squirrel Soiree" at the Mobile Arts Council's gallery at 6 S. Joachim Street. All members must wear a squirrel mask (which we will help you make) and a tail (available for purchase on Amazon, but you can also make your own) in the parade. All other costume items and themes are open.

COST:
MAC Members: $75 single / $125 couple
Non-MAC Members: $150 single / $200 couple
Membership is limited to first 100 people.

Cost includes:
Pre-party craft session and meet and greet on January 30th (location TBD). Make and decorate your own Mystic SOB mask and signature nut necklace throws! All needed materials will be provided.
Pre- and post-parade private party on February 19th at Mobile Arts Council (includes food & drink)
Marching as a Mystic SOB in the People's Parade on February 19th
Peanut throws courtesy of A&M Peanut Shop
Not included:
Parade throws (other than peanuts)

Clothing

Squirrel Tail